Drain Plug De-Icer
Allied Precision
Installation Instructions For Model 15DP:
Important: To ensure safety for both you and your livestock it is essential that you read and follow the instructions on the instruction sheet.
Installation Instructions: See Figure A
Unscrew plastic nut on the outside of Rubbermaid® tank. Save the nut and rubber washer. 
Remove drain plug assembly. Save the rubber washer. 
Insert one rubber washer over the cord and onto the de-icer. This washer should rest against the red plastic "plate" at the end of the threaded section. 
Insert de-icer from the inside of the tank. Be sure the "up" arrow is pointed up (located on plastic plate of de-icer). 
Pull cord through hole in tank. 
Insert the second rubber washer and plastic nut over the cord. 
Be sure the second washer is "sandwiched" between the plastic nut and the surface. Tighten nut.
Important: Double check the following:
The up arrow is pointed up. 
You have used both rubber washers in the installation. 
Confirm that the de-icer is stable and cannot twist in the drain hole. 
Confirm that the heating element cannot touch the plastic in any way.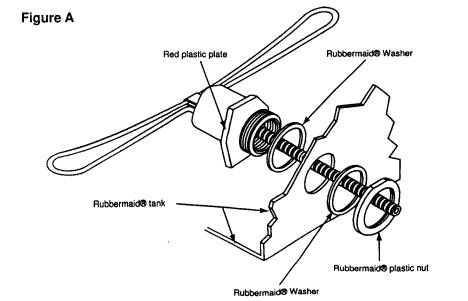 Maintenance:
Do not allow lime or other impurities (e.g. iron, mud, fish waste, etc.) in the water to build up in excess of 1/32" on the diameter of the tubular heating element. This is an allowance of 1/64" on each side. An excess build up can cause the heating element to burst, sending electrical current directly into the water. The frequency of cleaning depends directly upon the composition of your water supply (e.g. lime and iron content).
Remove these deposits with a lime removing liquid obtained at any farm or hardware store. Begin by soaking the heating element in a shallow pan containing the liquid and then remove the deposits being careful not to damage the heating element.
Ground Fault Interrupter must be installed in the circuit. This is a very sensitive device that cuts off the electrical current if there is any leakage of electricity in your water tank. This device may be obtained from any electrician or hardware store.
Caution:
Have a qualified electrician install a properly grounded receptacle outlet, acceptable for outdoor use and protected from snow and rain, immediately adjacent to the location where the heater will be used. 
Route the supply cord and locate the heater so as to be protected from damage by livestock.  
Do not use extension cords.  
Inspect cord before using.  
Unplug heater at receptacle outlet when not in use or before removing from tank.  
Store heater indoors after winter season.  
To ensure continued protection against shock hazard, connect to properly grounded outlets only.