Bull Point™ Marker
Triad Products Co.
Description:
Designed to fit under the chin of the bulls, the spring mounted steel ball marks cows in heat with a specially formulated non-toxic Bull Point Marker ink that adheres to the ball and resists drying. (Works on the same proven principle as the ball point pen.)
Leading beef and dairy breeders all over the world are finding the Triad Bull-Point Marker on a penectomized bull to be the most effective heat detection aid available in today's market, assuring high conception and greater profits from their AI programs.
Features:
· Rugged reinforced polyvinyl harness does not lose its shape when exposed to dirt, water or other fluids.
· The 5000 pound tested coarse nylon straps and the heavy duty non-slip steel buckles with teeth assure easy adjustment and secure fit on any bull.
· The straps are attached to the harness at slight angles providing the best possible fit.
· Special rubber tubing is installed on the back strap to prevent cutting or chaffing of the animal's neck and ears.
· The stainless steel ink reserve holds enough ink for 56 to 60 mountings, or 25 to 30 cows, depending on the mating characteristics of the individual bull. A convenient fill plug with rubber stopper on the top of the reservoir allows for clean and easy filling.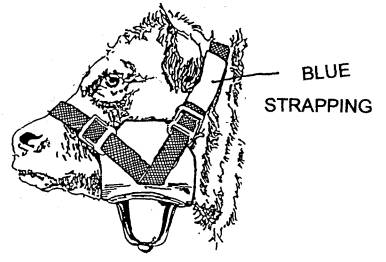 Instructions:
1. Fill reservoir with marking fluid through fill hole A in back of marker
2. Start nose strap B into buckle.
3. Slip nose strap over nose and fasten strap C behind ears.
4. Adjust straps until marker fits snugly under the chin. This will reduce snagging of the marker and extend its life.
(Note: Make sure straps are not so tight that they hamper the bulls breathing and eating.)
5. Cut off excess strap to avoid catching the loose ends. The ends should be singed with a match to prevent raveling.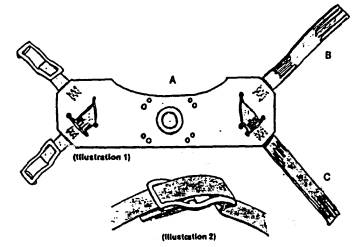 Note: If a leak should occur: 99% of leaking is due to foreign material in and around the steel ball. Please keep this area clear from foreign material (dirt, hair, manure, etc). By doing this your Bull Point Marker will last for years.
Questions & Answers:
Q. What operation is recommended for teaser bulls?
A. Though other surgical alterations can be performed, a penectomy operation is recommended. Research has shown that penectomized bulls show little or no loss of sexual drive, and are unable to make sexual contact and transmit disease. There is no possibility of calves from penectomized bulls. Vasectomized bulls, or bulls having undergone other surgical alterations, do not appear to have this advantage.
Q. What are some suggested guidelines for selecting a bull for a penectomy?
A. A gentle bull should be selected whenever possible so the Bull Point Marker can be examined without confining the animal. Though no breed is recommended over another, Hereford bulls have proven to work well at searching cows in heat in range country.
Q. What size should a teaser bull be?
A. Bulls weighing 800 to 1000 pounds the first year have proven the most desirable.
Q. What age should a teaser bull be for the operation?
A. Six months to a maximum of two years.
Q. How soon after a penectomy can a teaser bull be used?
A. A minimum of six weeks is usually recommended for healing.
Q. What does a penectomy cost?
A. Prices vary depending on the region and familiarity of the veterinarian with the operation.
Q. Where can my vet get more information on this operation?
A. The operation is described in the Journal of American Veterinary Medical Association, Volume 147, no. 4 (August 15, 1965). Reprints are available from Triad Products Co.
Q. How many cows per teaser bull are recommended?
A. In small herds usually 80 cows for one bull. In larger herds usually 50 cows for one bull.
Q. How many cows will be marked by one reservoir of ink?
A. One fill of ink will last for approximately 25 to 30 cows.
Q. How do I maximize the effectiveness of the Bull Point Marker?
A. Learn to interpret "false marks." One mark on the back, or a mark around the head or neck may indicate a cow is coming into heat. A single mark on the leg or flank is probably from accidental contact. Streaks on a cow in heat will usually run parallel with the backbone and result from the teaser bull dragging his chin across the cows back when dismounting. Single streaks should be ignored as they are usually accidental contact. After a few days of observation the distinction can easily be made from false marks and those that are a result of the cow being in heat. To avoid false marks it is advisable to separate the bulls wearing the Bull Point Marker from cows when bunching of the herd may occur. It is advisable to check the reservoir for adequate ink often, especially during the peak of the breeding activity.