Ratch-A-Pull
Stone Manufacturing & Supply
The Stone Ratch-A-Pull makes fast work of problem deliveries and helps you save valuable calves.
Variable side to side pull provides maximum control and maneuverability, enhances straighter, consistent pulling action and easier delivery.
77" solid steel pole is the longest and strongest available. Breaks down for ease of transporting and storage.
Heavy-duty solid steel construction on pole and ratchet assembly.
Precision crafted deep grooves on pole provide positive locking and prevent slippage and damage to pole threads.
Breech spanner is shaped to fit all breeds of cows allowing for proper positioning and straight pulls.
72" heavy-duty washable web strap for breech spanner.
Ratchet mechanism is assembled with aircraft bolts and Teflon stop-nuts that won't loosen during transportation or use.
Precision-tolerance hooks bite chain at any point to prevent slack or slipping.
Fast, easy assembly.
Calving Aid Assembly and General Information:
To Assemble Ratch-A-Pull:
Thread rod completely together. ANY SPACE BETWEEN ROD SECTIONS MAY ALLOW BOLT  TO ATTACH RATCH-A-PULL:
Position breech spanner at floor of birth canal on pin bones of cow. (See Illustration)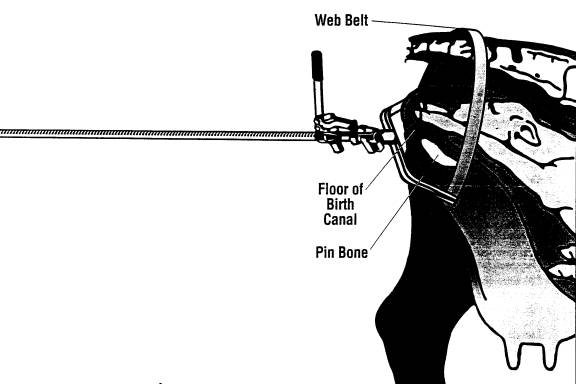 Secure location with web belt. PLEASE NOTE: Allowing the breech spanner to slip lower than the pin bones will dramatically increase chances of damaging your equipment and injuring the calf. EACH INCH OF SEPARATION BETWEEN CHAINS AND ROD WILL DECREASE BEND STRENGTH OF ROD BY OVER 200 LBS.
O BREAK. Slip breech spanner onto cone-shaped end of rod. Position ratchet close to breech.
Attach one chain to each leg in recommended manner. (Chains not included.) If in doubt, consult your veterinarian.
Top Assist Delivery:
For easiest and safest delivery of the calf, hard traction should be applied only when the cow presses.
Use both sides of ratchet to even up pressure.
During delivery, position Ratch-A-Pull horizontal at first (relative to standing cow). Then angle end of pole toward ground as delivery progresses. The direction of traction and that of the fetus as it passes through the birth canal is in that of an arc. Any pressure used to position rod should be applied at mid-point of rod. DO NOT APPLY PRESSURE FROM END OF ROD.
Caution:
BE CAREFUL OF EXCESS PRESSURE
This calving aid can generate pressures well in excess of 1200 lbs. It is possible to break the leg
Of a calf with pressures as low as 400 lbs. METAL STRESS MEANS EXCESS PRESSURE.
lbs. It is possible to break the leg of a calf with pressures as
low as 400 lbs. METAL STRESS MEANS EXCESS PRESSURE!
EXCESS PRESSURE INDICATORS:
* Pole may bow with pressures above 1200 lbs.
* Hooks will "spring" and allow chains to slip through with pressures above 1200 lbs.
* Linkage straps will stress with pressures above 1400 lbs.