Horse Respiratory Health: Q&A with Flexineb Horse Nebulizer
Ensure horse health by using an equine nebulizer, such as the Flexineb, a natural therapy method for horse lung health.

The key to a horse's long and healthy life is through thoughtful preventative care and treatment. Like humans, horses can be exposed to allergens, seasonal coughs, runny noses and develop long-term respiratory problems that affect their overall quality of life and performance.
Respiratory problems, such as Recurrent Airway Obstruction (RAO or "heaves"), Chronic Obstructive Pulmonary Disease (COPD), Inflammation Airway Disease (IAD) and Exercise-induced Pulmonary Hemorrhage (EIPH), frequently cause poor horse performance.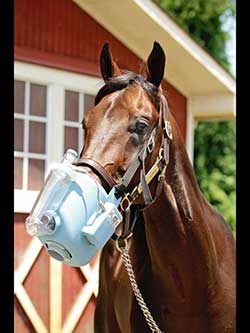 With the help of world-renowned veterinarians and trainers, the Flexineb product line provides highly functional equipment to ensure your horse receives the very best treatment. Watch the video above, or browse questions and answers below, to learn more about the Flexineb Horse Nebulizer.
Flexineb E3 is a simple-to-use, silent and portable equine nebulizer system without the standard compressor, hoses, wires and typical inconveniences of old horse nebulizers. The Flexineb E3 is a revolutionary horse nebulizer that enables delivery of nebulized medications and natural therapies directly to the airways of the horse. It operates from a rechargeable battery and has a unique blue or pink flexible mask interface with a clear aerosol chamber and medication cup.
How is Flexineb different from other horse nebulizers?
Technology has advanced a lot over the years. Historically, it was inhalation therapy where a single puff of aerosolized chamber was used to treat the horse, similar to an inhaler. The inhaler would only allow the medication to get to the back of the horse's throat and was not effective when treating a respiratory illness in the lungs.
The system is convenient.
Flexineb designed a system that eliminates the needs for excess tubes, loud noises and having to keep your horse in a stationary position for a long time. Other horse nebulizers may have a long tube from the chamber, where medicine is placed, to the mask. These systems are also connected to a power station or generator, which is loud, heavy and prohibits the owner from being able to move the horse if needed.
The system is lightweight. Flexineb is the lightest-weight system on the market, weighing just 2.2 lbs. and very flexible. It seals around the horse's muzzle, ensuring the treatment is being inhaled properly. The system is also self-contained and holds the battery pack and connector cable all in one system, making it easy to walk your horse during treatment.
What is the benefit of nebulization and aerosol therapy?
Aerosol therapy offers the benefit of delivering nebulized medication directly to the site of infection in the horse's airways, rather than going indirectly to the problem by delivering medication orally or by injection.
Which medications or solutions should be used with the Flexineb?
Medications are not supplied with Flexineb E3, as these must be prescribed by your veterinarian. The system is supplied with a 500 ml bottle of 0.9% saline solution for immediate use. This helps you become familiar with how it operates and to introduce your horse to the system before using it with medications
How often can you use the mask before it must be replaced?
The life expectancy of the mask depends on usage, wear and tear, and upkeep. Some customers have had their masks for several years; however, it will be dependent on care and upkeep.
To help ensure long-term usage, make sure to: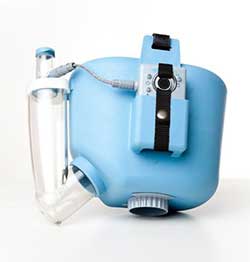 Keep away from horses when not in use
Sanitize and clean the horse nebulizer after every use
Store unit out of the elements for best results
What size masks are available?
There are three Flexineb E3 Mask sizes available:
Foal/pony size: fits foals, small ponies and yearlings
Standard size: fits 2-year-old Thoroughbreds to large Warmblood breeds
Draft size: available on special request to fit the largest of horses
Is the horse nebulizer loud?
The equine nebulizer is whisper quiet. You never have to worry about your horse being spooked by loud noises or vibrations. The system dispenses a light steaming sound but should not disturb your horse.
Why use distilled water?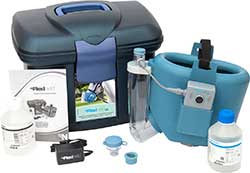 To ensure long-term use of the medication cup, it's encouraged to use distilled water. Distilled water will be free of any harmful chemicals and hard metals that could be present in the water. Hard and soft waters can damage the fine mesh that is in the center of the horse nebulizer's medication cup.
Will this help a horse that has a chronic runny nose?
Anytime a horse begins to suffer from a chronic runny nose, chronic cough or chronic nasal discharge, the initial treatment will be running a .9% saline solution to help the sinuses drain. Nebulization therapy can help with a horse's chronic runny nose. Please consult with your veterinarian before treating your horse.
How will the horse nebulizer help horses affected by wildfires?
Horse who have been exposed to smoke or dust or debris, are going to have inflamed nostrils and damage to the membranes along the nasal cavity. Ensure they are treated as quickly as possible to alleviate and prevent any further damage. Flexineb and nebulization therapy is going to be vital in the recovery of those horses. To allow the horses to breath normally, and treat any possible infections that may be starting in the lungs, make sure to get the medication administered quickly. The Flexineb will ensure that the microns of moisture make it all the way thru the horse's respiratory system and reach the back of the lungs.
Will the Flexineb help with an older horse that has heaves?
Flexineb is a vital tool in managing your horse's heaving systems. The system administers treatment quickly, and when your horse is having symptoms related to heaves, you can quickly get the nebulizer on your horse and begin treatment.
Can the Flexineb be used on cattle?
Yes, some farmers have used the Flexineb on their cattle. Customers will need to make sure to order the appropriately sized mask.
Why would competitors administer saline solution with Flexineb before a big event?
0.9% saline solution is, basically, a very diluted salt water. It is a naturally occurring substance that will help lubricate the nasal passages and open up airways.
Flexineb has designed a product that provides ease of use, durability and longevity to ensure horses have reliable preventative care and treatment. Flexineb has a multitude of uses, allowing saline solution, natural therapies and medications to be administered smoothly.