Login
This site requires that your cookies be turned on. Please reference your browser help section for managing your cookie settings.
Already have an account?
If you have previously created an account with ValleyVet.com please login with your email address and password to continue
New customers / No Account
New customers or customers without accounts, click the Continue button.
CONTINUE
Create an account and Receive Access to:
Account Information: Manage your address book and email promotion settings for future orders
Prescriptions: View prescriptions on file, save your pet's medical data, and set your vet's contact information to make reordering easier.
Orders: View your order history and tracking information
Favorites: Automatically stores your top 10 purchases for convenient reordering
Shopping List: Keep track of items you are interested in, and quickly add any shopping list product to your cart!
Screen Savers: Free pet, equine, and farm & ranch screen- savers!
Gift Registry: Don't leave friends and family guessing! Create a gift registry for any occasion.
How to check your Computer's Date & Time
Check Date & Time:
Use the mouse to move the pointer arrow over the time on your taskbar, and the date should appear after a moment (see Image A). You can also right-click on the time and select "Adjust Date/Time" (see Image B).
Image A


Image B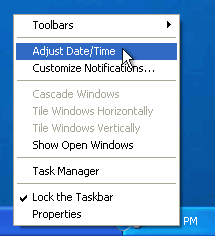 Change Date:
1) Right click on the time and select "Adjust Date/Time" (See image B above).
2) This will open the "Date & Time Properties" window (See image C below).
3) Select the correct month, year, day, and time. Then click the "OK" button.

Image C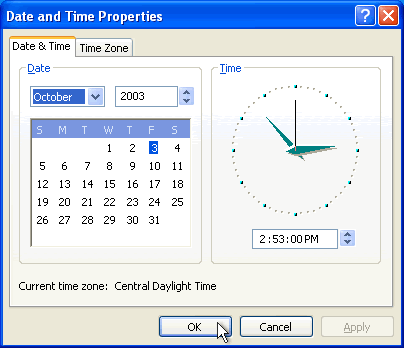 MSIE Trusted Sites
Step 1:
Select/Click "Tools" from your Internet Explorer menu bar.
Step 2:
Select/Click "Internet Options" from the "Tools" menu drop down list. This will open the "Internet Options" window.
Step 3:
Select/Click the "Security" tab in the "Internet Options" window. This will display the security for the internet zones - click here to see example.
Step 4:
Select/Click the "Trusted Sites" for you web content zone, and then click the "Sites" button. This will open the "Trusted sitess" window.
Step 5:
Add the following URLs:
http://*.valleyvet.com
https://*.valleyvet.com