Valley Vet Supply Horse Club Rewards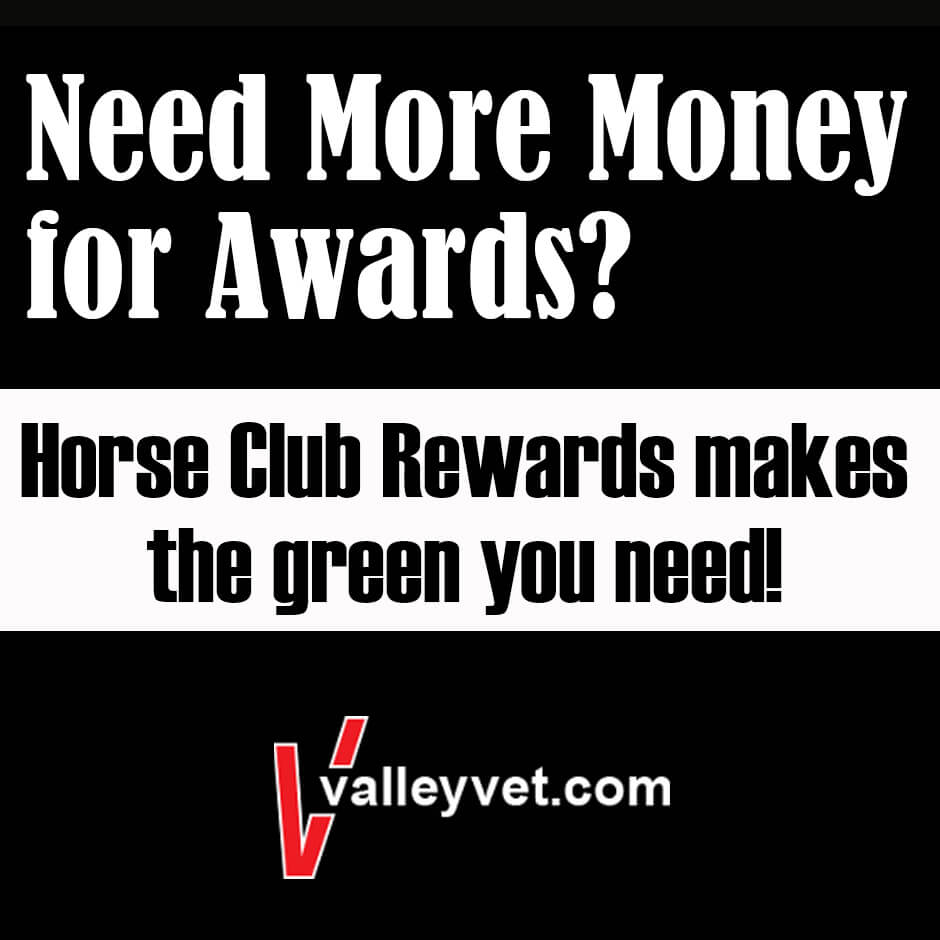 Register your horse club and members to start earning rewards today! Qualifying purchases will apply up to a 5% credit to your club account to be used for awards. Simply have your club secretary contact us to set up your club's personalized account.
When select products from Valley Vet Supply are purchased, the total will be recorded for your club account. For every $1,000 of registered member purchases, your club will receive a $50 credit on the club account redeemable for award purchases.
*Equine purchases only. Excludes dewormers, shipping and handling.
Verify you are setup as a club member.
To begin the Club Program, we need these items:
- Club name and location
- Name, address, phone and email for the club secretary (or person managing the club account)
- Name, address, phone and email for each club member who is to participate in the Club Program. Please provide this information in an Excel file. For your convenience, feel free to use our sample Horse Club Customer List, available for download, here: XLS Club Customer List spreadsheet
Once club members are entered into our system and the club contact information is in place, we will establish a beginning date for your club in the Club Program.
To get started, please call and ask to speak with Lynette in customer service, or send her an email at clubrewards@valleyvet.com.
We look forward to working with you and providing your club with awards they are sure to love! Valley Vet Supply offers an array of high-quality equine halters, blankets, sheets and travel bags that we can embroider and personalize for your awards. In addition to the wide selection of items in our entire equine offering, Valley Vet Supply gift cards are also available for your convenience and flexibility.
Join us on Facebook
Location:
1118 Pony Express Hwy
Marysville, KS (East Hwy 36)
Store Hours:
Monday - Friday 8 AM - 7 PM
Saturday 8 AM - 6 PM
Sunday 12:30 - 5 PM
Phone:
800-419-9524