Eliminating Scours Outbreaks
We sat down with Elanco technical consultant W. Mark Hilton, DVM, to discuss how a multifactorial approach that includes immunizing with Scour Bos can help keep your calves healthy this coming year.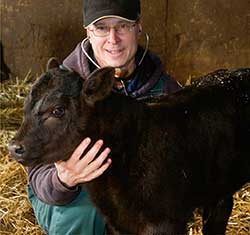 WE'VE HEARD YOU SAY THAT EVERY PRODUCER SHOULD BE ABLE TO ACHIEVE A SCOURS-FREE CALVING SEASON. ISN'T IT NORMAL TO HAVE A FEW CALVES WITH SCOURS?
Although having a few cases of calf scours isn't unexpected, it's possible to have no outbreaks. I've been a beef veterinarian for many years and have worked with herd owners that have never had a calf with diarrhea in all the years I worked with them.
WHAT'S THE SECRET TO HAVING NO SCOURS OUTBREAKS?
There's no secret. Researchers at the University of Nebraska pioneered the Sandhills Calving System (SCS), which was a real turning point for producers battling calf diarrhea. Traditionally, all cows calved in a single calving pasture. When calves were a day or so old, the cow and her calf were moved to another pasture. Because calves that look healthy can shed disease organisms in the first day or two of life, the environment can become heavily contaminated and expose the entire herd to pathogens. Even worse, calves that do not nurse well or get sick are kept for more days in the calving lot, which adds to the pathogen load. In this system, calves start getting sick at an alarming rate about halfway into the calving season. Each calf born after the outbreak is destined to get scours. In contrast, the SCS starts with all cows in calving paddock #1 for two weeks. (Heifers calve in a separate area.) After two weeks, all pregnant cows are moved to calving paddock #2. During the next seven days, cows that calve in paddock #2 remain there with their calves and those yet to calve are moved to paddock #3, and so on. This weekly moving of cows yet to calve to a clean calving pasture for eight to nine weeks ensures that calves have minimal exposure to pathogens and are healthier. If you would like help setting up the SCS at your farm or ranch, contact your herd health veterinarian for assistance.
BESIDES USING THE SCS, WHAT ELSE IS IMPORTANT IN ELIMINATING CALF SCOURS FROM A BEEF HERD?
Excellent nutrition is imperative for heifers and cows to produce optimum quantities of high-quality colostrum. Heifers should calve at a body condition score (BCS) of 6.5 to 7, and cows should have a BCS of 5.5 to 6. Cows and heifers with low BCS will produce insufficient quantities of high-quality colostrum, which can make calves more susceptible to disease, not only as neonates but throughout life. Vaccinating cows and heifers before calving with Scour Bos 9 will help to ensure the colostrum contains antibodies to many of the most important causes of neonatal diarrhea, including E. coli (four isolates), rotavirus (three isolates), coronavirus and Clostridium perfringens type C. No other vaccine contains as many isolates. In a survey of veterinarians, 97% of respondents said that Scour Bos met or exceeded their expectations, even when weather conditions were extreme. Scour Bos also provides the most flexibility in timing of vaccination. The initial dose of Scour Bos 9 can be given as early as 16 weeks precalving, with the next dose (Scour Bos 4) given 4 weeks precalving. In subsequent years, cows are vaccinated eight to 10 weeks before the start of the calving season with Scour Bos 9 for control that can last all season. Scour Bos delivers excellent control with the greatest flexibility for timing.
HOW CAN BEEF PRODUCERS AND VETERINARIANS DEVELOP BETTER PROGRAMS FOR PREVENTING CALF SCOURS THIS COMING YEAR?
By working together, you and your herd health veterinarian can fine-tune your program to optimize your calf diarrhea prevention efforts. Find Scour Bos and everything you need for healthy calves at ValleyVet.com.