Healthcare for Show Pigs
We often receive calls from producers who are raising baby pigs destined for the show ring. They want to make sure they're following proper healthcare protocol before selling their pigs to 4-H'ers and others for finishing. This vaccination and deworming schedule is an example that many producers follow prior to selling young pigs.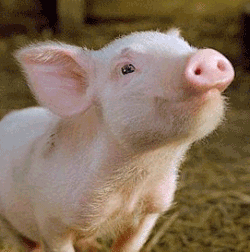 1 WEEK OLD:
Rhinitis (Bordetella)
Erysipelas
Mycoplasma Pneumonia

3 WEEKS OLD:
Circovirus

4 WEEKS OLD:
Rhinitis
Erysipelas
Mycoplasma Pneumonia (unless a 1-dose product was given at 1 week)
Actinobacillus pleropneumonia (APP)

8 WEEKS OLD:
Actinobacillus pleropneumonia (APP)

4-10 WEEKS OLD:
Deworm when the stress of weaning is over and the litter is combined with other pigs.
Most show pigs are purchased at 2-3 months of age. It is advisable for the new owner to deworm 2 weeks after purchase. Continue to deworm every 30 days while you prepare for and attend shows. Deworming can be done by injection or through feed.