Western Saddle Fitting 101: Tips on Proper Fit, Selecting Saddle Pads, Cinches and More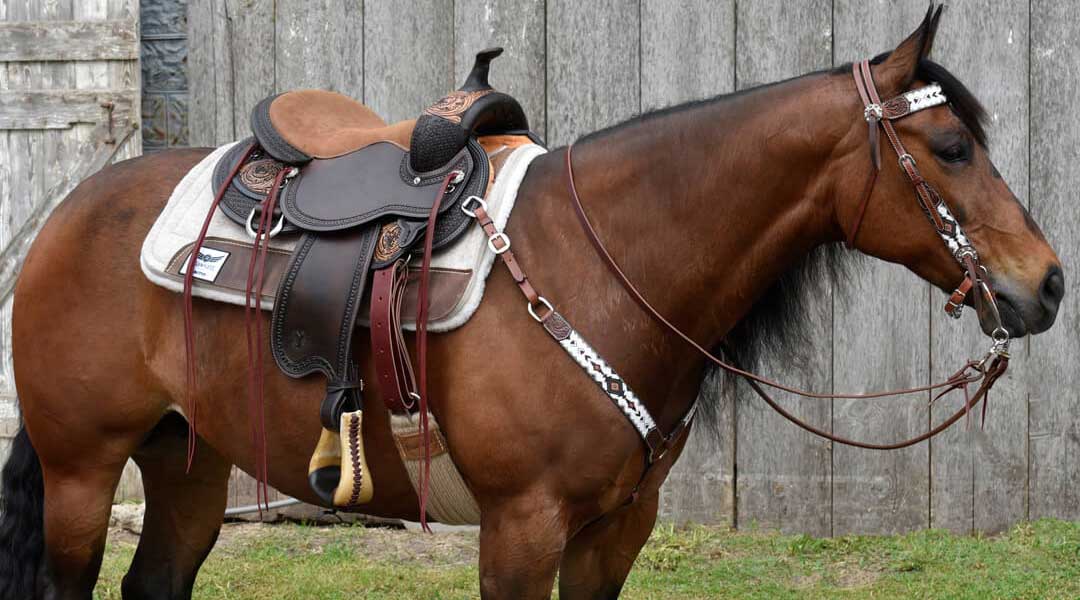 If your blue jeans were two sizes too small, it's likely your body would show signs of (major) discomfort, such as pinching and red marks. Now, unless they're the last pair to your name, you're likely not wearing those jeans again, let alone tomorrow, the next day, or for days to come.
Now, imagine how your horse might feel, if he is consistently ridden in an improperly fitted saddle.
How Does Your Saddle Fit Your Horse?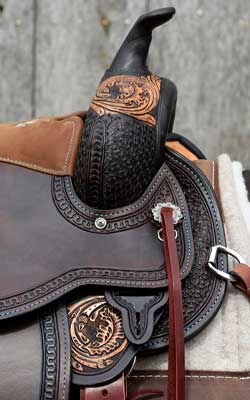 Your horse's comfort, happiness and your proper positioning as a rider all weighs on your saddle's fit. An improper saddle fit causes your weight to be distributed unevenly, which can result in pressure points, rub marks, soreness, or the development of white saddle spots on your horse. Monitor your horse's attitude and behavior while riding, which can clue you in on a painful saddle fit, but keep in mind: some horses are more stoic than others. It's best that you take a step back and take a close look at your horse while he is saddled to determine fit.
Your saddle fits just right if it sits level on your horse's back and the bars of the tree do not pinch. The front of your saddle should be positioned behind your horse's shoulder blade, allowing him freedom of movement.
Your saddle is too narrow if the front of the saddle sits high. When the saddle is sitting directly upon the horse's withers, pinching can often occur.
Your saddle is too wide if the front of the saddle is low. This also results in pinching but at the top of the saddle's bars. In this scenario, the gullet of the saddle may be too low and rest on your horse's withers causing pain and discomfort.
Learn more about the saddle that is pictured on the right, crafted by internationally renowned trainer and clinician, Julie Goodnight, and tune into this video below as she shares insights on saddle fitting.
Continue reading for additional guidance to help ensure you and your horse enjoys the most comfortable and secure ride possible.
What to Consider When Selecting a Saddle Pad
Selecting a saddle pad is an important decision that should not be based on look and color patterns alone. Some saddle pads are uniquely designed and contoured to fit your horse's back immediately, relieve wither pressure and wick away sweat and moisture.
Be sure to avoid over-padding your horse, a common practice that can result in your saddle rolling and sliding more easily. Choose a saddle pad that offers your horse the support he needs. Shop saddle pads and blankets
How to Measure For a Cinch
For your saddle's fit and proper positioning on your horse, it is important that your horse's cinch fit well, too. In the video above, Professional's Choice representative and professional rodeo cowboy, Brodie Poppino, shares how to properly measure and fit a cinch to your saddle. Keep in mind, though: non-nylon cinches could stretch up to a full size, so based on your preference, consider the material before ordering a cinch for your horse.
What to Consider When Choosing a Cinch
When choosing a cinch for your horse and saddle, keep in mind there are two different types of cinches: Western cinches and roper cinches. A roper cinch is wide and contoured, so when they are cinched up and stop quickly, the weight is distributed more evenly over a wider area of the horse, reducing uncomfortable pressure on the horse's abdomen. When tightening your horse's cinch for an everyday ride, consider how tightly you wear your belt, and offer your horse the same level of comfort. Overtightening a cinch can add pressure and discomfort for your horse before you even step into the stirrups.
Remember that the longevity of your saddle and tack all depends on how well it is cared for over the years. Cleaning and oiling your tack regularly helps to prevent cracking and protect the leather. Oiling your saddle also aids in a safer ride, as dry, cracked leather can result in breakage, which can potentially lead to a mishap and rider injury. For safety, closely observe your tack and the quality of your leather pieces. Are they oiled and secure, without any sign of dry rot or cracking? If so, happy trails. If not, for the safety of your ride, it is time for repair or replacement.