FDA Ensures Equivalence of Generic Drugs
Drug products sold in the United States are approved by the FDA whether they are brand name or generic. "Most people believe that if something costs more, it has to be better quality. In the case of generic drugs, this is not true", says Gary Buehler, Director of FDA's Office of Generic Drugs. "The standards for quality are the same for brand name and generic products."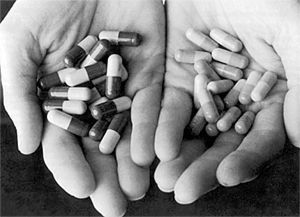 Myths and Facts about Generic Drugs
MYTH: Generics are not as safe as brand-name drugs.

FACT: FDA requires that all drugs be safe and effective and that their benefits outweigh their risks. Since generics use the same active ingredients and are shown to work the same way in the body, they have the same risk-benefit profile as their brand-name counterparts.

MYTH: Generics are not as potent as brand-name drugs.

FACT: FDA requires generics to have the same quality, strength, purity, and stability as brand-name drugs.
MYTH: Generic drugs are likely to cause more side effects.

FACT: There is no evidence of this. FDA monitors reports of adverse drug reactions and has found no difference in the rates between generic and brand-name drugs.
MYTH: Brand-name drugs are made in modern manufacturing facilities, and generics are often made in substandard facilities.

FACT: FDA won't permit drugs to be made in substandard facilities. FDA conducts about 3,500 inspections a year in all firms to ensure standards are met. Generic firms have facilities comparable to those of brand name firms. In fact, brand-name firms account for an estimated 50 percent of generic drug production. They frequently make copies of their own or other brand-name drugs but sell them without the brand name.
MYTH: Generics take longer to act in the body.

FACT: The firm seeking to sell a generic drug must show that its drug delivers the same amount of active ingredient in the same timeframe as the original product.
Reprinted August 2002 from

FDA Center for Drug Evaluation and Research Special Report

Printed September 1999

This article originally appeared in the September 1999 From Test Tube to Patient: Improving Health Through Human Drugs

U.S. DEPARTMENT OF HEALTH AND HUMAN SERVICES
Public Health Service • Food and Drug Administration

FDA on the Internet: https://www.fda.gov/cder

The contents of this publication--both text and graphics--are not copyrighted. They are in the public domain and may be republished, reprinted, and otherwise used freely by anyone, without the need to obtain permission from FDA. Credit to the U.S. Food and Drug Administration as the source is appreciated but not required. We also appreciate being informed about the use of our materials. Contact FDA/CDER, HFD-210, Rockville, MD 20857
Reprinted August 2002 from

FDA Center for Drug Evaluation and Research Special Report

Printed September 1999

This article originally appeared in the September 1999 From Test Tube to Patient: Improving Health Through Human Drugs
U.S. DEPARTMENT OF HEALTH AND HUMAN SERVICES
Public Health Service • Food and Drug Administration

FDA on the Internet: https://www.fda.gov/cder
The contents of this publication--both text and graphics--are not copyrighted. They are in the public domain and may be republished, reprinted, and otherwise used freely by anyone, without the need to obtain permission from FDA. Credit to the U.S. Food and Drug Administration as the source is appreciated but not required. We also appreciate being informed about the use of our materials. Contact FDA/CDER, HFD-210, Rockville, MD 20857